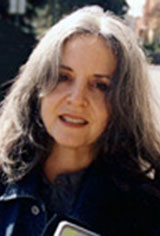 Q. How did you come to live in New Mexico? You have lived several other places, including England and New York, so how do you find life in New Mexico after those other places?
I've lived in too many places. I long to feel I belong somewhere specifically. I've tried many times to leave New Mexico. It's a beautiful place, but I hope to move back to New York.
Q. You are both a visual artist and a poet. How did those two interests develop initially?

Letter from the Lawn
(
Buy Now
)
(
all Bobbi Lurie books
)
Poem: "The Psychiatrist Says She's Severely Demented" by Bobbi Lurie, from Letter From the Lawn. © CustomWords. Reprinted with permission.
I have been a visual artist for as long as I can remember. I have also been a writer for as long as I can remember. I focused my attention on the visual arts for many years. Etching was the process I loved most. Unfortunately, I got sick from the chemicals and had to stop spending all my time at the print studio where I worked in New York. My ideas about art changed after I gave up printmaking. I became more interested in ideas. I started writing about art. I published art reviews in New York. Later, in England, I wrote short stories and essays. I became a theater critic. I loved exploring ideas within the scaffold of evaluating a particular work of art. I eventually did not have the stamina to continue working in journalism. Poetry came as an antidote to linear thought. I have a long list of poets who have made me want to keep working at poetry. Many of them are no longer living. There is an enduring conversation going on between poets via their work. Paul Celan's poems, for example, help me believe that language can be made new.
Q. When you have an idea you want to express, do you ever have to debate which form to use, canvas or paper?
I no longer make visual art though I often fall in love with the shape of poems, their visual framework. The shape of a poem is often what draws me to it. But language and the consciousness which exists within it is what interests me most. In regard to debating about form, it takes me time to build poems and the form changes throughout the process. Many poems end up being collages of smaller poems. Putting a collection of poems together is another way of joining fragments. The process dictates itself and, if successful, brings about a sense of completion. I felt similarly when making visual art.
Q. Several of the poems in "Letter from the Lawn" are about your mother. One especially poignant example being "The Psychiatrist Says She's Severely Demented." Who did you write those poems for?
I wrote those poems for myself––(and I am always writing for an "invisible listener" who may or may not exist)––it was very difficult for me to watch my mother's ability to interact with the outer world deteriorate so quickly. Writing saved me in so many ways. I wanted to write about my mother's situation unflinchingly. The poems about my mother allowed me to feel as if I were still speaking to her, even after she failed to recognize me. My first book, The Book I Never Read, is based on watching my mother change. It is very much a collection of observations about the dreamlike nature of existence and the power of imagination.
Q. What are you working on currently?
I am finishing a third manuscript and working on a fourth. The subject matter in both loosely follows the trajectories of my experiences and observations. Both manuscripts are experiments with language, the music of language and thought. They attempt to approximate a sense of presence. I learn while I write. Writing helps me understand things I could not understand outside this process. It is the process of living life twice: once in the experience and once through art.
Bobbi Lurie's poems have been published in numerous literary journals including The American Poetry Review, New American Writing and Gulf Coast. Her second book, Letter From The Lawn, was published by CustomWords in 2006. Her first book, The Book I Never Read, was published in 2003, also by CustomWords. She lives with her family in New Mexico.